5 Best Sous Vide Torch Options
Unlocking the full potential of sous vide cooking often requires the precision and finesse of a torch. But with the sea of options out there, finding the best sous vide torch can be a challenging task.
Whether you're a seasoned chef or a home cook looking to elevate your culinary game, the right torch can make all the difference. So, let's explore a curated selection of torches that bring power, control, and reliability to your sous vide experience.
From searing steaks to putting the perfect finishing touches on your dishes, these torches are about to become your kitchen's fiery best friend.
Sous Vide Torch Reviews
1. Sondiko Butane Torch S400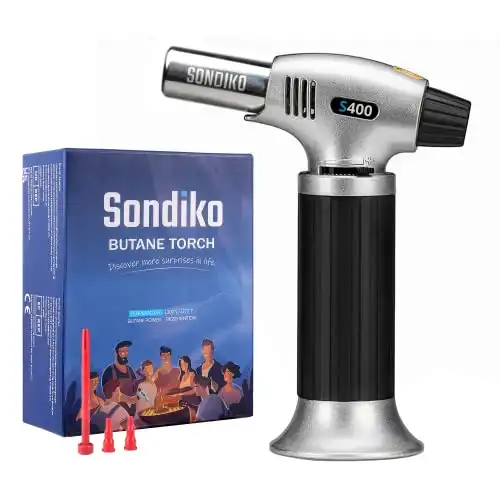 Sondiko Butane Torch S400
Pros:
Precise flame control for accurate cooking

Enhanced safety with a safety lock and finger guard

Versatile for a wide range of culinary tasks

Compatible with all small butane tanks

Durable aluminum alloy construction for long-lasting use
Cons:
Butane gas not included

Learning curve for some users in mastering flame control
Buy Now
The Sondiko Butane Torch S400 is an indispensable tool for anyone venturing into the world of sous vide cooking. Its array of features makes it a standout choice for both professional chefs and home cooks looking to up their culinary game.
Features
Crafted with meticulous attention to safety and durability, the Sondiko Butane Torch S400 is a culinary essential, offering reliable performance for all your sous vide adventures. Here are the features that make that happen:
One of its standout features is its commitment to safety. The torch comes equipped with a safety lock that prevents accidental ignition, ensuring peace of mind during use.
Its broad base adds stability, reducing the risk of tipping over. In addition, the long angled nozzle and burn-free finger guard keep your hand safely away from the flame. Crafted from durable aluminum alloy, this kitchen torch is built to withstand the test of time.
Refillable and Easy to Operate
Refilling the torch is a breeze, as it accepts any brand of butane gas. Plus, the Piezo Ignition Technology ensures hassle-free lighting, making it a portable companion for outdoor activities like camping and BBQ.
Adjustable Flame Control Knob
The Piezo Ignition Technology allows for use at any angle, even upside down, with effortless one-hand operation.
Moreover, an adjustable flame knob provides precise control over the intense flame, reaching temperatures up to 1300°C (2372°F). This feature simplifies baking and cooking tasks, ensuring consistent results.
Worried about compatibility? Don't be. The Sondiko Butane Torch S400 is designed to fit all small butane tanks, whether they have long or short nozzles. The torch includes a red adapter to lengthen the nozzle, ensuring compatibility with a wide range of butane gas tanks.
Beyond sous vide, this powerful torch proves its worth in various culinary tasks. It excels at caramelizing sugar for crème brûlée, glazing ham to achieve a browned surface, searing steaks for a charred flavor, roasting peppers and other vegetables, and melting cheese to perfection.
Its utility extends to lighting fireplaces, candles, and serving various hobbies, arts and crafts projects, jewelry making, and even light welding. Indeed, it's a versatile tool for any cooking enthusiast.
2. Legendary Chef Culinary Cooking Torch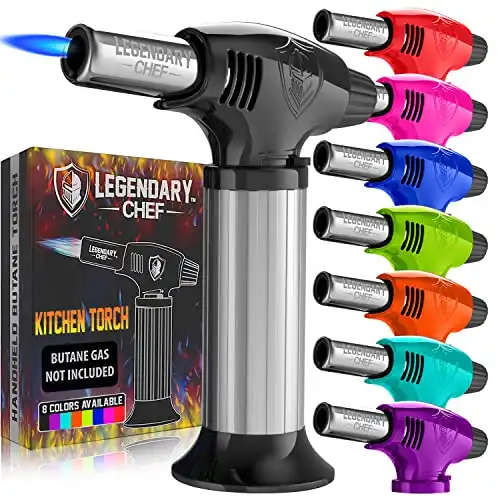 Legendary Chef Culinary Cooking Torch
Pros:
Enhanced safety with a safety lock and flame control

Versatile applications beyond cooking, including crafts and lighting

Durable aluminum construction for long-lasting use

User-friendly twist and lock feature for consistent flames

Excellent customer support with the Legendary Chef promise
Cons:
Consumes butane gas relatively quickly

A bit bulkier compared to smaller handheld torches
Buy Now
The Legendary Chef Culinary Cooking Torch is an essential tool that can bring a new dimension to your culinary adventures, especially if you're new to sous vide cooking. It combines safety, reliability, and precision to enhance your cooking skills and elevate your dishes.
Features
The Legendary Chef Culinary Cooking Torch is a precision-crafted culinary partner. Here are the standout features that set it apart:
This torch is designed with safety in mind. Its safety lock button prevents accidental ignition, and the well-thought-out handle keeps your fingers and hand safely away from the flame. Crafted from high-quality aluminum, it is built to last and promises years of reliable performance.
Achieving the perfect flame size for your culinary needs is a breeze with the adjustable flame control feature. The adjuster switch on the side allows you to fine-tune the flame size, ensuring consistent results for a wide range of dishes.
The torch's twist and lock feature make it easy to maintain a consistent flame, making your cooking experience more user-friendly and enjoyable.
Plus, the manufacturer stands behind the product with confidence. If you face any problems or aren't entirely happy it, their excellent customer support team will swiftly address your concerns so you can be at ease with your purchase.
Beyond sous vide cooking, this torch proves its worth in various scenarios. It's perfect for tasks like melting cheese, roasting tomatoes, and caramelizing sugar on crème brûlées. Moreover, it doubles as a versatile tool for lighting candles, cigars, and aiding in arts and crafts projects.
3. Booker & Dax Searzall Torch Attachment
The Booker & Dax Searzall Torch Attachment is a game-changer for culinary enthusiasts, especially those who want to try sous vide cooking for its health benefits. It can take your searing skills to the next level, transforming your torch into a handheld broiler.
Features
Unlocking culinary precision, the Booker & Dax Searzall Torch Attachment is a remarkable addition to your sous vide toolkit. Let's delve into the distinctive features that define its excellence:
The Searzall attachment is your ticket to achieving the perfect sear in seconds. With two high-temperature-resistant wire mesh screens, it converts your torch's flame into radiant heat. This helps ensure even and professional-quality finishes on meats and other dishes.
Minimal Odor and Torch Taste
Say goodbye to the off-putting aromas and taste associated with traditional blowtorches. The Searzall attachment minimizes these while delivering the range of temperatures needed for culinary excellence.
The back screen of the Searzall is coated in palladium, providing enhanced temperature and oxidation resistance. This ensures durability and longevity, even during extended cooking sessions.
The attachment comes complete with everything you need for quick assembly and use. These include the aluminum sleeve adapter, allen key, thumbscrew, and spacing stick. It's compatible with the Bernzomatic TS8000 torch head and 16.4-ounce propane tank.
Beyond sous vide cooking, the Searzall attachment is a versatile tool for a wide range of culinary endeavors. Use it to finish meats, make pizza, melt cheese, and more, all while maintaining precision and control.
4. Iwatani PRO2 Butane Torch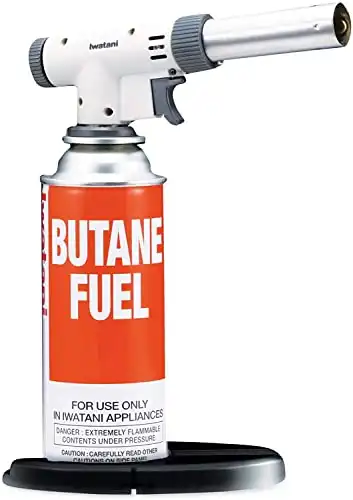 Iwatani PRO2 Butane Torch
Pros:
Adjustable flame control for precision

Reliable Piezo ignition for convenient and quick start

Versatile for various culinary applications, including sous vide

High heat output with a powerful 6300BTU unit

Stabilizing stand for safety and stability during use
Cons:
Limited flame shape options

Requires butane refill canisters
Buy Now
The Iwatani PRO2 Butane Torch is a culinary essential that combines precision, versatility, and safety. It is a standout tool not only for anyone who wants to enjoy the advantages of sous vide cooking but also a wide range of culinary applications.
Features
For the Iwatani PRO2 Butane Torch, precision and performance are paramount. Here are the exceptional features that make it an indispensable tool for sous vide cooking and beyond:
Adjustable Flame Intensities
One of its standout features is the adjustable gas flow control. This allows you to achieve the perfect flame size, whether you need a small, precise flame for tasks like creme brulee or a larger flame for browning meat or melting cheese.
Reliable Piezo Ignition Button
The reliable Piezo intensity trigger ignition eliminates the need to continuously hold the torch trigger once it's lit. This ensures convenience and ease of use during extended cooking sessions.
With a powerful 6300BTU unit, this butane torch produces a formidable 2700°F/1500°C heat output. In turn, this allows you to handle a wide range of cooking tasks with precision and efficiency.
The torch comes with a stabilizing stand that balances the attached torch, preventing it from tipping over or falling off a preparation stand. This feature ensures safety and stability during use.
Versatile Culinary Applications
This kitchen torch is a versatile kitchen companion, suitable for tasks like creme brulee, meringue, au gratin, browning meat, sous vide cooking, melting cheese, and more. It's your all-in-one solution for various culinary endeavors.
5. SearPro Charcoal Torch Lighter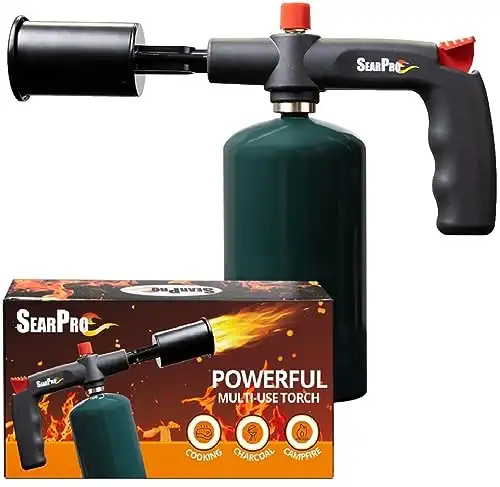 SearPro Charcoal Torch Lighter
Pros:
Unconditional one-year warranty for peace of mind

Voted #1 cooking torch of 2022 for precision searing

Powerful flame reaching over 1800 degrees Fahrenheit

Versatile for outdoor uses like charcoal lighting and campfires

Adjustable fuel control for various tasks, from searing to candle lighting
Cons:
Requires a one-pound propane tank for operation

Learning curve may be needed for precise flame control
Buy Now
The SearPro Multi-Use Torch Lighter is a versatile culinary torch that not only elevates your sous vide cooking game but also brings blazing heat to a wide range of outdoor and indoor applications.
This propane torch attachment, invented by a First Responder and proudly USA-owned, promises top-notch performance and reliability for all your culinary and outdoor needs.
Features
The SearPro Multi-Use Torch Lighter is a culinary powerhouse that goes beyond the ordinary. Let's explore the exceptional features that set it apart for sous vide cooking and various applications:
With temperatures soaring over 1800 degrees Fahrenheit, the SearPro torch delivers a show-stopping, powerful flame that's unmatched in the market. With this in your kitchen, you can guarantee efficient and quick cooking results.
You have complete control over the torch flame, allowing you to use as much or as little as needed for the task at hand. From searing to candle lighting and campfire starting, this kitchen torch offers flexibility in flame control.
Beyond the kitchen, this torch is compatible with your Green Egg cooker and can quickly ignite lump charcoal, campfires, fireplaces, and chimneys. It is a must-have for outdoor enthusiasts and BBQ aficionados.
SearPro stands behind its product with a 100% unconditional one-year warranty. If you're not satisfied for any reason, you will receive a full refund or exchange, emphasizing their commitment to customer satisfaction.
Looking for a perfect gift for a home cook? This all-around multipurpose torch offers precision in searing filet mignon, ribeyes, briskets, and sous vide steaks to perfection, making it an ideal tool for sous vide enthusiasts.
Buyer's Guide
Sous vide cooking has gained popularity among home cooks for its precision and ability to create mouthwatering dishes. One essential tool that elevates your sous vide experience is a reliable torch.
Whether you're searing steaks to perfection, caramelizing sugar for a delightful creme brulee, or adding those finishing touches to your culinary creations, the best sous vide torch is a valuable addition to your kitchen arsenal.
Here are factors to consider when buying one:
Precise Flame Control
A key feature to seek in a kitchen torch is precise flame control. It should enable you to effortlessly adjust the flame size, catering to various culinary tasks such as searing and caramelizing.
A torch equipped with an intuitive and user-friendly control mechanism ensures you can attain your desired results without any uncertainty or guesswork.
Reliable Ignition System
Aside from flame control, choose a torch that boasts a dependable ignition system. Piezo ignition technology stands out as a popular choice, facilitating swift and effortless lighting without requiring additional tools.
The capacity to ignite the torch with ease, even during one-handed operation, can substantially enhance your cooking experience.
Fuel Source
Take into account the torch's fuel source. While many sous vide torches utilize butane, others may be compatible with propane or mapp gas. It's essential to ensure that the torch's fuel source is easily accessible and simple to refill.
Some torch models even incorporate a handy fuel gauge, adding an extra layer of convenience to your cooking equipment.
Build Quality
The torch's construction is crucial for long-lasting durability. Seek torches crafted from premium materials such as stainless steel or aluminum.
Opting for a torch with a robust and ergonomic design not only provides comfort during extended cooking sessions but also enhances its overall longevity.
Safety Features
Essential safety features include a built-in safety lock to prevent accidental ignition and a finger guard that shields your hand from the flame. Also, a torch equipped with a stable base significantly reduces the risk of tipping over, especially when used on various surfaces.
Versatility
Some torch models extend beyond sous vide cooking and excel at various tasks. Choosing a torch that accommodates a wide range of culinary applications ensures you can extract maximum value from your investment.
Size and Portability
Home cooks often favor a compact and portable torch that can be conveniently stored in a kitchen drawer or carried on outdoor adventures. Evaluate the torch's size and weight to ensure it aligns with your storage and mobility requirements.
Warranty and Customer Support
A torch with a warranty offers an extra layer of peace of mind. Check for the manufacturer's warranty and available customer support options. Reliable customer support ensures you can easily seek assistance or obtain a replacement if you encounter any issues.
Price and Value
Assess the torch's price in relation to its features and capabilities. While quality often correlates with a higher price tag, make sure the torch offers the features essential to your cooking needs without unnecessary extras.
Consider the torch's long-term value and how it enhances your culinary endeavors. This way, you can make a well-informed investment that aligns with both your budget and culinary aspirations.
Best Torch for Sous Vide and More
For home cooks embarking on the exciting journey of sous vide cooking, having the right tool can make all the difference. After putting them to the test, the Sondiko Butane Torch S400 emerged as the top pick.
With precise flame control, reliable Piezo ignition, and a durable aluminum body, it enhances your sous vide experience. Its versatility extends beyond sous vide, making it a valuable kitchen companion for searing, caramelizing, and more.
Also, its safety features and ease of use ensure you can cook with confidence. Affordable and reliable, the Sondiko S400 is the torch that can make sous vide cooking at home a flavorful and delightful experience.