What to Serve With Venison Sausages?
What makes venison sausage unique is a deep, rich flavor not found in other sausages. That's why this savory meat delicacy can be used to add some spark to a number of unusual and delicious meals.
Whether you mix deer sausage with other sausage types or try out a recipe built only around venison, you're bound to appreciate it in any form.
If you're wondering about what to serve with venison sausages, I've created this detailed guide to help you decide. Read on to find out exactly how you can combine venison sausage with other tasty ingredients and prepare a meal that will be a pure delight for your taste buds.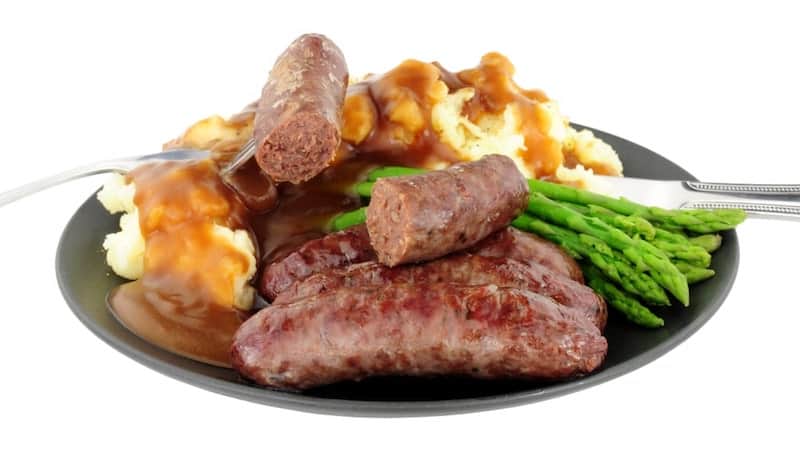 Best Food to Serve With Venison Sausage
When thinking about what to make with deer sausage, here are some of the best foods to serve it with: potatoes, pasta, rice, vegetables, soups, or sauces.
Below, I'm going to discuss each of these in detail and give you some easy recipe ideas you can try, whether you're an amateur or experienced cook.
Potatoes
I'm sure this one comes as no surprise to you. Whether you're a fan of baked potatoes, onion gravy, or French fries, you can serve your venison sausage with all of these.
The quickest option would be simply baking a one-pan venison sausage tray along with some potatoes, asparagus, cherry tomatoes, and some of your favorite spices.
If you want to serve venison sausages with potatoes and some veggies, you can make a delicious meal by barbecuing your sausages and vegetables together. They will go perfectly with some mashed potatoes with onion gravy on top.
Last but not least, you can always make fries and cook your deer sausage in the skillet with some olive oil and onions. Given the fries component, this is sure to be a favorite amongst the kids!
Pasta or Rice
Venison sausage is leaner than other meats because the venison is usually grass-fed. Also, venison has less saturated fat but still has a vibrant flavor. This makes it an excellent choice for both pasta and rice dishes.
There are tons of recipes featuring pasta and venison sausage. You can simply garnish your pasta plate with grilled sausage. You might also like cooking the venison sausage in pasta sauce if you want the whole dish to infuse the rich venison flavor.
One great recipe I recommend includes a can of chopped tomatoes, one red onion, and a clove of garlic. Just sauté the onion and garlic, add chopped tomatoes, and let simmer. Once you cook the pasta, add it to the sauce, and serve everything with the venison sausage on top. Very simple, yet very delicious!
You can also serve many rice-based dishes with venison sausages. Whether you're a risotto, jambalaya, or paella fan, you can add venison sausages to any of these authentic dishes.
A nice mix of venison and mushrooms will add a rich flavor to your risotto. If you've only made jambalaya with andouille before, you can replace this French sausage with some spicy venison sausage for extra enjoyment.
Grilled Venison Sausage With Garnishes
If you want to make the venison sausage your main dish, grilling it is the way to go.
You can either serve grilled venison in a bun and make hot dogs or on a plate served with an accompaniment. Some of the best pairings for grilled venison sausages are rice, egg noodles, or potatoes.
An authentic Italian sandwich recipe involves venison sausage, spices such as oregano, garlic, paprika, and beef for a dose of fatty juiciness. These ingredients are then mixed and put on a grill. While the mixed beef and venison patties are still cooking, you can add some cheese on top and wait until it melts. Finally, put these in toasted buns and devour them as a sandwich.
You get the idea of how you can grill venison sausage either alone or mixed with other meat types. However, I recommend mixing venison only with fatty pork or beef.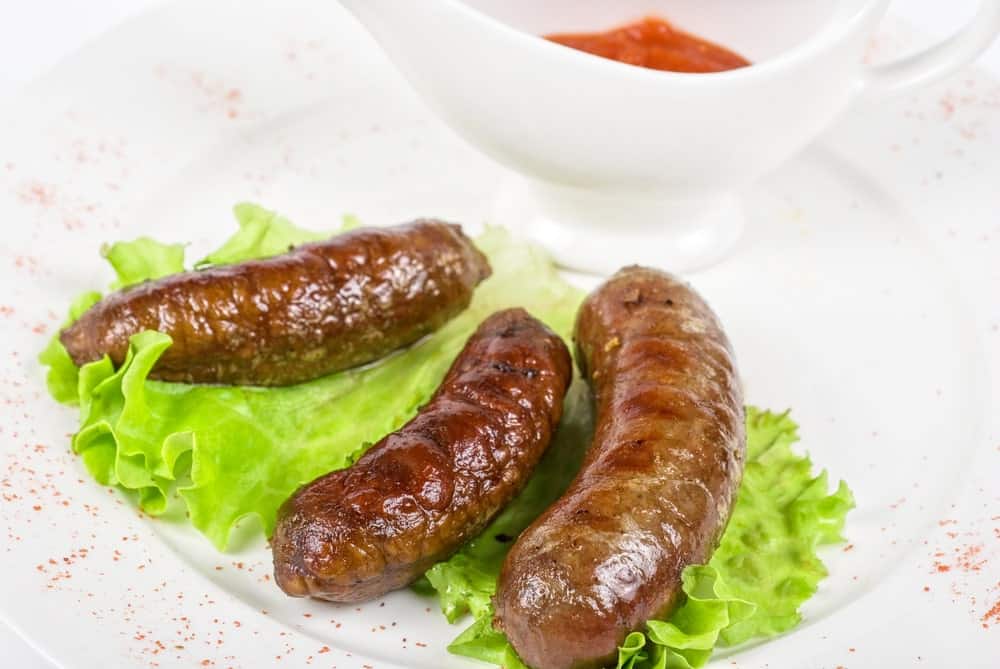 Vegetables
Whether you bake, grill, or cook your venison sausages, you can always serve them with a nice portion of veggies. Not only will this meal be savory, but also nutrient-packed. Some vegetables that pair nicely are mushrooms, baked beans, sautéed peppers, onions, or coleslaw.
If you decide to grill the sausage, make sure to include some grilled veggies as well. Some of the best-grilled vegetable combinations for your venison are eggplants, peppers, zucchini, and mushrooms.
Soups
A whole myriad of soups and stews from Europe feature venison sausage.
If you're into soups, you can add this sausage into your tomato broth or add it to the classic Portuguese potato and kale soup.
If you're a fan of caldo verde, you can replace the chorizo with some spicy venison sausages. As rich as the venison sausage is in flavor, it will always pair well in a red wine and herb stew.
Sauces
Maybe you want to serve sausages as an appetizer or as a cold snack on hot summer days. If so, it's best to combine them with some tasty sauces or dips.
Combine a ¼ cup of honey, mayonnaise, and Dijon mustard with a tablespoon of white vinegar and 1/8 teaspoon of cayenne pepper for a delicious honey mustard sauce.
If you barbecue your venison sausages, you'll want to combine a cup of mayonnaise with two tablespoons of yellow mustard and two tablespoons of the Honey BBQ Sauce.
Another juicy dipping sauce includes ½ cup of apricot jam, ¼ cup of sweet chili sauce, and the juice of ½ lemon.
Venison and Pork Sausage Mix
If you have some ground pork to go with venison, you can combine the two and make delicious homemade sausages.
Basically, you'd just have to thoroughly grind the venison, mix some of your favorite spices, and add the ground pork to it. Four pounds of each meat should be enough.
You can then vacuum seal the meat or prepare sausages right away. You can serve them as a side dish or as a central piece for dinner or lunch.
In Summary
As you can see from my guide, venison sausages pair well with most foods – pasta, rice, potatoes, mushrooms, soups, or mixed with pork. They're equally delicious when barbecued or cooked.
My advice is to serve venison sausages with dishes that are not already rich in flavor and that let you enjoy this savory sausage to the fullest. If you like the traditional meat and potato combination, you'll equally enjoy it with this meat delicacy.
Hopefully, I've given you more than enough options to choose from when it comes to what to make with deer sausage.