Air Frying vs Sous Vide: Which Is Better?
Are you looking for low- and reduced-fat ways of preparing your favorite foods and have become interested in newer cooking techniques like sous vide and air frying? Or maybe you're looking to deck out your kitchen with another cool new appliance and are wondering what you should get next.
Let's examine air frying vs sous vide cooking to see which is better.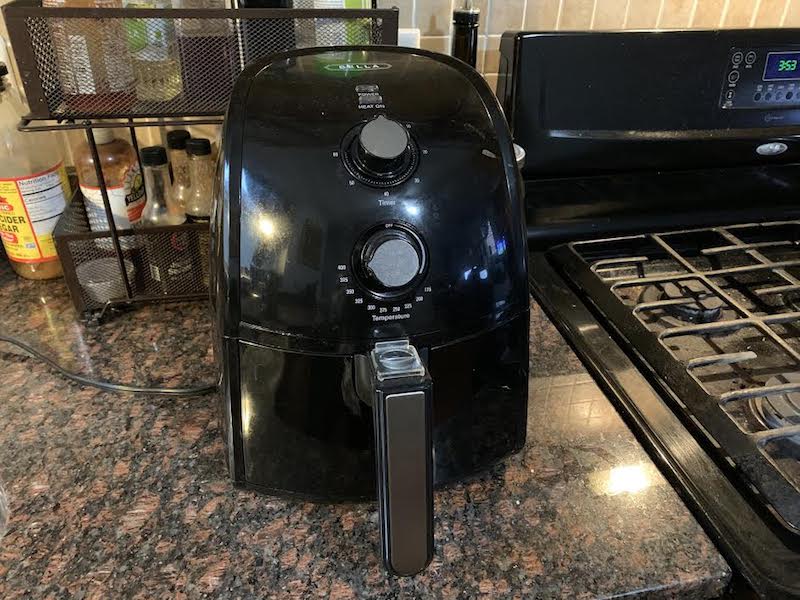 What Is Sous Vide Cooking?
Sous vide cooking involves sealing foods in a bag, immersing the bag in heated water, and allowing the water to circulate for a long time. This heats foods more slowly and gently than traditional cooking methods, allowing them to heat evenly all the way through at the same rate, rather than cooking more quickly on the outside than the inside, as traditional cooking methods do.
Sous vide cooking was developed and popularized by French chefs because this long cooking time at lower temperatures retains food's natural flavors and juices, rather than cooking them off. It allows precise temperature control, improves final texture, and prevents overcooking.
What Is Air Frying?
Air fryers are countertop appliances that circulate very hot air around the food. This causes warming and browning, creating a crisp exterior and brown crust without frying foods in hot oil.
Air fryers are a great alternative to traditional frying because cooking foods with little or no oil saves time, reduces calories, and doesn't allow oil to seep into foods and make them greasy.
Essentially, air fryers are small, specialized convection ovens, that cook with hot air. They are faster and more convenient than traditional convection ovens, and don't heat up a kitchen.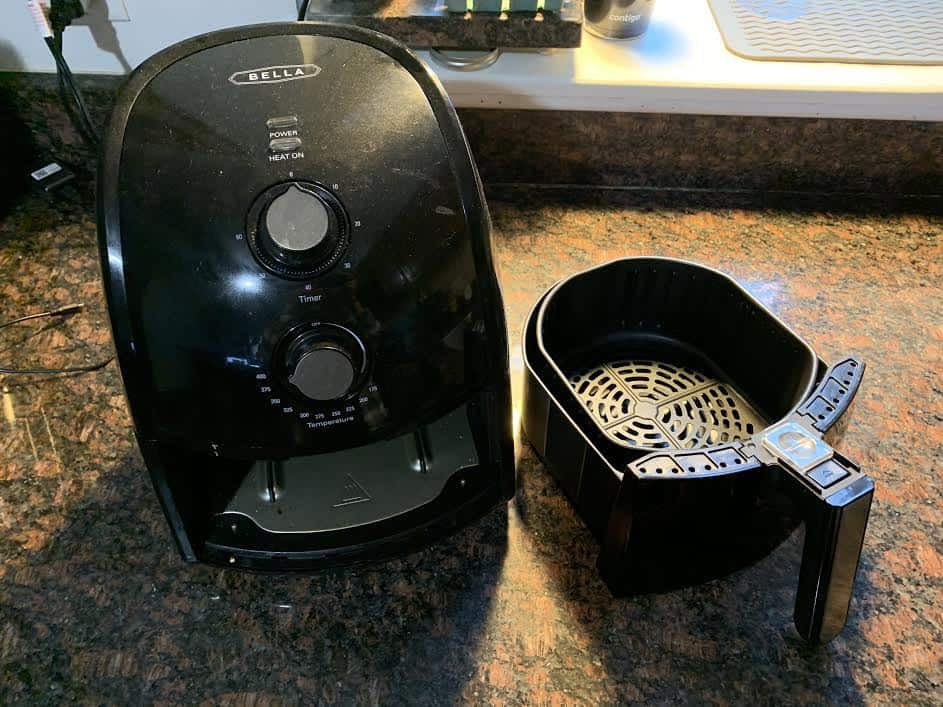 Similarities Between Sous Vide and Air Frying
Here are some of the most significant similarities between sous vide and air frying foods.
Improved Temperature Control
Air fryers have more precise temperature control simply because they are smaller than ovens, and the heat is more directly concentrated on the food.
Sous vide has even more precise temperature control, ensuring that food's internal temperature is precisely what you set it to.
Specialized Appliances
An air fryer is a specialized countertop appliance. Sous vide requires (at the minimum) an immersion circulator, container, and sous vide bags. In both cases, you need to invest in some special equipment for your kitchen to explore these techniques.
Reduced-fat Cooking
Air fryers create the look and texture of fried food with very little oil, while sous vide can cook perfect food with no added oil at all. Both cooking methods allow you to create your favorite foods with less added fat or cooking oil.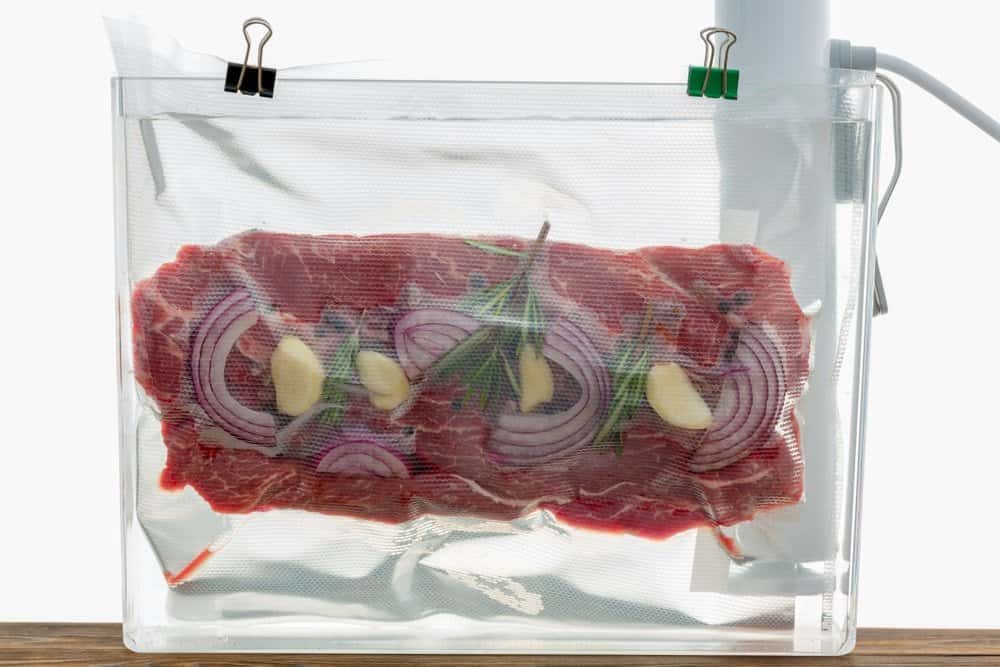 Differences Between Sous Vide and Air Frying
Despite these similarities, there are some really significant differences between sous vide and air frying. Here are the most important.
Browning/The Maillard Effect
When we think of fried, sauteed, roasted, or baked foods, we anticipate the Maillard effect. The Maillard reaction is a chemical reaction that happens when you heat proteins and sugars.
It creates a brown exterior, a caramelized flavor, and often creates a crispy surface texture. From the brown crust of bread to the crust on a grilled steak to the crisp edges of fried eggs or potatoes, food browning contributes a lot of flavor and texture, and people tend to love it.
Air fryers are explicitly designed to create this browning effect on the outside of foods, while sous vide cooking prevents any browning at all. That being said, after you finish cooking something sous vide, you can always sear it off in a pan. This way, you get both the precision of sous vide cooking and caramelized flavor and crispy texture.
Time
Air fryers are very fast to use because they heat foods without having to heat an entire oven. On the other hand, sous vide is a long and slow cooking method, often requiring hours to cook food perfectly.
Freezing and Preservation
Because sous vide foods are sealed and cooked without air, it is incredibly easy to prepare or cook large quantities of food ahead of time and freeze or refrigerate it for later.
Ideal Foods for Sous Vide vs Air Frying
So which is better? Well, the truth is, air frying and sous vide are created to prepare entirely different foods in altogether different ways. The question of which is better depends on what type of food you're making.
Check out the table below for some examples of how different types of food are best cooked.
| | | | |
| --- | --- | --- | --- |
| Type of Food | Sous Vide | Air Fryer | Why? |
| Asparagus | X | | Asparagus has a delicate texture, and achieving the perfect mix of tender/crisp is almost impossible without sous vide |
| Bacon | | X | Air frying makes perfect crisp, browned bacon |
| Baked Goods | | X | Air frying is excellent for a vast range of baked goods, including cookies, pastries, and cakes |
| Brussels Sprouts | | X | Brussels sprouts are most delicious when they are tender inside and crisp and roasted outside, which is easy in an air fryer |
| Carrots | X | | Carrots have two distinct textures and can be tough to cook, but sous vide cooks them to perfection while preserving their natural crispness |
| Eggs | X | | Eggs are one of the main reasons that French chefs love sous vide cooking. The precise control and gentle heat lets you get the exact texture and consistency you want in both the white and the yolk, no matter how you want your eggs |
| Fried foods | | X | There's no doubt that the air fryer is best for fried foods of all kinds, from doughnuts to French fries |
| Meat (Especially Tough Cuts) | X | | Most meat needs low, slow, precise cooking to avoid becoming tough and chewy. Sous vide is the best way to cook pretty much any type of meat to perfection. |
| Poultry | X | X | Tender, juicy chicken breast is ideal for sous vide, while crispy, flavorful wings call for the air fryer |
| Potatoes | | X | Air frying potatoes keeps them fluffy on the inside and crisp on the outside |
| Premade Frozen Food | X | X | Air frying is great for warming up foods that should be crisp, but sous vide is also excellent and defrosting and warming food |
In Summary
As you can see, there's a reason why pro chefs and experienced cooks love sous vide cooking. It allows you to cook some of the most challenging foods to perfection, easily and consistently every time.
If you're a meat eater, sous vide cooking is definitely the better method to use, and there's also an argument to be made for sous vide cooking as the best choice for vegetarians too. And let's not forget that it's healthy too!
Sous vide is also a great way to prepare sauces, custards, puddings, and even pie fillings.
If you want to step up your kitchen game and produce professional-quality meals, sous vide is a fantastic choice.
Other articles you might be interested in: