5 Best Sushi Rolling Mats
For home cooks with a passion for sushi making, the right tools can make all the difference. And when it comes to crafting those perfect, restaurant-quality sushi rolls, the best sushi rolling mat is an indispensable companion.
Whether you're a seasoned sushi connoisseur or a curious beginner wanting to explore Japanese cuisine, the perfect sushi roller holds the power to elevate your sushi-making prowess.
Sushi Rolling Mat Reviews
1. Delamu Sushi Rolling Mat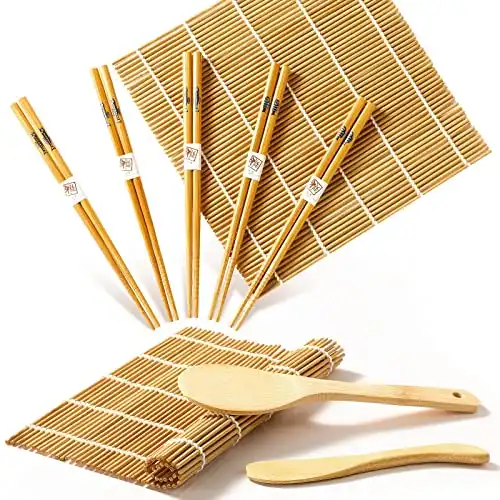 Delamu Sushi Rolling Mat
Pros:
Beginner-friendly guide for success

Durable bamboo sushi rolling mat

Charming fish-printed chopsticks

Comprehensive kit with all essential tools

Beautifully packaged for gifting
Buy Now
The Delamu Sushi Making Kit is your ticket to crafting different types of sushi rolls with ease. This kit offers a delightful combination of functionality and charm that will not only make your journey more enjoyable but also ensure impressive results.
Features
Whether you're new to sushi-making or seeking to refine your skills, this kit is the perfect companion. Here are five standout features that make this kit a must-have:
The inclusion of a downloadable beginner guide e-book ensures that even those taking their first steps into sushi-making territory can do so with confidence. This detailed resource provides step-by-step instructions and handy tips to guarantee a successful sushi-making experience.
Crafted entirely from premium bamboo, this kit's sushi mat exudes durability and authenticity. Say goodbye to worries about durability; this rolling mat is built to withstand countless sushi-making sessions.
The uniquely designed reusable chopsticks, adorned with intricate fish prints, not only serve as functional tools but also add a decorative touch. It's the little details like these that make your sushi creations truly special.
Comprehensive Starter Kit
With two rolling mats, a rice spreader, a rice paddle, and five sets of chopsticks included, this kit has all your essential sushi-making tools covered. It is an ideal starting point for beginners and first-timers looking to master the art of sushi rolling.
Delamu understands that presentation matters. As such, each kit comes beautifully hand-packaged and sealed in a gift box, making it an excellent choice for gifting or treating yourself.
2. ISSEVE Sushi Rolling Mat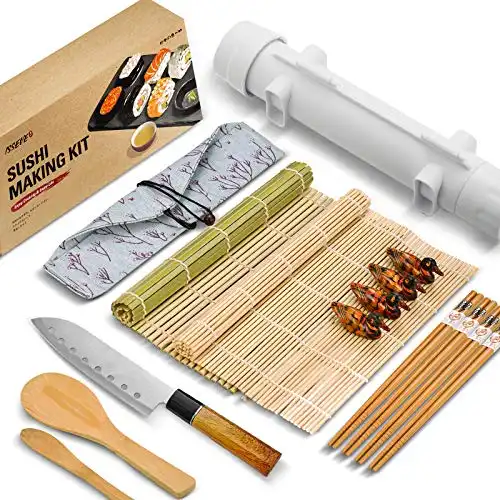 ISSEVE Sushi Rolling Mat
Pros:
Premium bamboo mats for durability

Comprehensive kit with all essential tools included

BPA-free, food-grade plastic components for safety

Ergonomic sushi knife for precise cutting

Innovative sushi bazooka for effortless sushi assembly
Cons:
Initial soaking required for some components
Buy Now
If you've ever dreamt of becoming your household's master sushi chef, the ISSEVE Sushi Making Kit is here to make those dreams a delicious reality. Crafted from top-quality natural bamboo and featuring a host of essential tools, it provides a hassle-free path to sushi perfection.
Features
If you have extra cash to spare, the ISSEVE Sushi Making Kit is a worthy investment, offering everything you need for a sushi party in the comfort of your kitchen. Here are its standout features:
This kit goes above and beyond, offering not just the basics but a complete arsenal for making sushi. With a sushi bazooka, bamboo mats, paddle, spreader, premium-grade sushi knife, bamboo chopsticks, and holders, it's your all-in-one solution for sushi creation.
Premium Natural Bamboo Mat
The sushi rolling mat is meticulously crafted from top-quality natural bamboo. This ensures a smooth, splinter-free experience and long-lasting durability.
The use of food-grade, BPA-free plastic components guarantees your homemade sushi is not only delicious but also safe to eat. It is a healthy, cost-effective alternative to dining at expensive Japanese restaurants.
The included premium sushi knife boasts an extra-sharp, non-stick blade to ensure effortless slicing. Its ergonomic handle design means you get to have a secure grip, making it easier to craft beautifully cut sushi rolls.
The 100% natural material sushi bazooka simplifies the sushi-making process. Load it with sushi rice and other ingredients, close it, and squeeze out perfectly formed sushi rolls with ease.
3. FUNGYAND Sushi Rolling Mat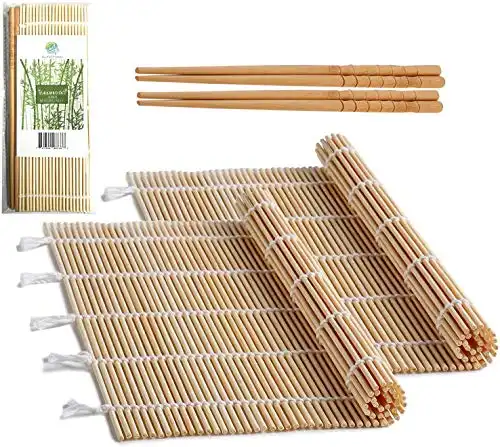 FUNGYAND Sushi Rolling Mat
Pros:
Premium natural bamboo rolling mat for authentic sushi

Quality craftsmanship with no glue

Versatile gift suitable for various occasions

Professional-grade mats for enjoyable sushi rolling

Dedicated customer service for a seamless experience
Cons:
Not dishwasher safe

Requires soaking for the bamboo mats before initial use
Buy Now
For sushi enthusiasts looking to bring the art of sushi crafting into their own kitchens, the FUNGYAND Sushi Rolling Mat With Chopsticks is a delightful choice. It comes with two finely designed rolling mats and two pairs of chopsticks, promising an authentic culinary journey.
Features
With the FUNGYAND Sushi Rolling Mat With Chopsticks, everyone can become a sushi master. Here are the exciting features that make this kit a must-have for sushi lovers:
Crafted from eco-friendly, natural bamboo, the full-sized rolling mats (each measuring 9.5" x 9.5") not only enhance the authenticity of your sushi but also ensure the safety of your loved ones. It is 100% BPA-free and free from any harmful additives.
These sushi mats are a testament to quality craftsmanship. Assembled using 100% cotton threads without using glue, they prioritize purity and safety in your culinary pursuits.
Premium Grade for Sushi Chefs
Whether you're a beginner or a seasoned pro, the high-quality bamboo mats used by top chefs in sushi bars ensure an enjoyable sushi rolling session. Its size provides ample space for crafting your sushi creations.
Spread the joy of sushi-making with this kit, which makes for an ideal present on various occasions. It's a gift that combines both pleasure and practicality.
Friendly Customer Service
Your satisfaction is important, and FUNGYAND is committed to providing an exceptional experience. If you encounter any issues, their dedicated customer service team is ready to address your concerns promptly.
4. Roll Model Silicone Sushi Rolling Mat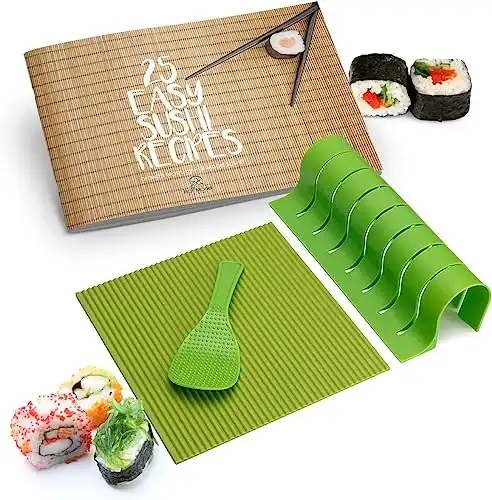 Roll Model Silicone Sushi Rolling Mat
Pros:
Comprehensive kit with all essential tools

Quick and efficient sushi-making process

Includes a free recipe book with 25 ideas

Made of top-quality, durable materials

Dishwasher safe for easy cleanup
Cons:
Uses a silicone rolling mat, which is not authentic
Buy Now
Are you an aspiring sushi chef? The Roll Model Sushi Silicone Rolling Mat is here to make your culinary dreams come true.
This comprehensive sushi rolling kit includes a 7×7 inch silicone mat, a rice paddle, a sushi roll slicer, and a free recipe book filled with 25 easy-to-follow recipes and ideas.
Features
This set provides the tools and inspiration needed to transform your kitchen into a sushi haven. Here are features that make this kit a must-have for sushi lovers:
This kit provides you with everything you need to create the perfect sushi roll, from shaping the rice with the silicone mat to slicing it into standard eight-piece rolls with the cutting mold. Plus, the included recipe book offers endless inspiration for your sushi creations.
Quick and Efficient Tools
The silicone mat ensures you create the ideal sushi roll shape, while the rice paddle helps you achieve a perfectly flat rice layer. These tools make the sushi-making process quick and efficient, even if you're new to sushi rolling.
Made with top-quality materials, this sushi mat set guarantees durability and longevity. It is a kitchen companion that will become a household favorite.
Say goodbye to post-cooking cleanup hassles. Unlike bamboo sushi rolling mats, the set is dishwasher safe, making it incredibly easy to clean and dry. Finally, you can enjoy your homemade sushi without the worry of tedious cleanup.
The kit is available in two mat sizes (7×7 inches or 9.9.5 inches), allowing you to choose the right one for the occasion. Whether you're cooking for a picnic or a family gathering, there's a size that suits your needs.
5. BZG 2-Pack Bamboo Sushi Rolling Mat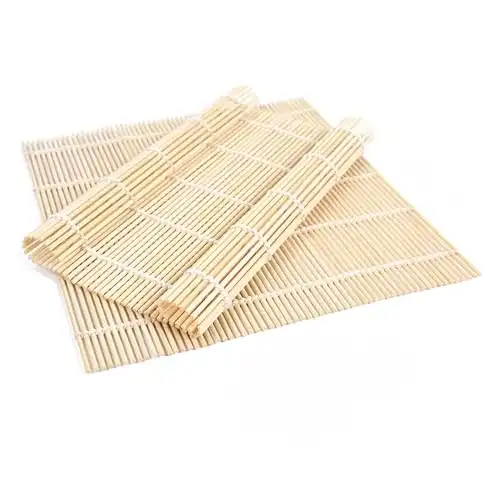 BZG 2-Pack Bamboo Sushi Rolling Mat
Pros:
Fine workmanship with no splinters or unraveling

Lightweight, durable, and made of natural bamboo

User-friendly, easy to clean, and rolls sushi nicely

Budget-friendly and suitable for beginners

No need for additional sushi-making tools
Cons:
Basic design without any extra features or accessories
Buy Now
When it comes to crafting sushi at home, sometimes simplicity reigns supreme. The BZG 2-Pack Bamboo Sushi Rolling Mat is a testament to this philosophy. It offers a no-frills, budget-friendly solution for home cooks eager to roll their sushi with ease.
Features
The BZG 2-Pack Bamboo Sushi Rolling Mat proves that you don't need a lot of fancy equipment to make sushi. With fine workmanship, natural bamboo construction, and user-friendly design, these mats provide all the essentials you need.
Here are its standout features:
These bamboo roller mats are meticulously crafted with cotton string stitching. This ensures there are no splinters or unraveling of the stitching. You can roll your sushi worry-free.
Natural Bamboo Construction
Crafted from high-quality bamboo material, these mats are not only lightweight but also incredibly durable. Plus, they are all-natural, devoid of any harmful chemicals or glues.
These mats are incredibly easy to use. You can roll sushi nicely, and they are a breeze to clean, making the entire process hassle-free.
For those new to sushi-making, these mats are a perfect starting point. You won't need additional paddles, molds, or specialized tools. It simplifies the process, making sushi-making accessible to all.
These mats get the job done without any unnecessary bells and whistles. If you're seeking a straightforward, budget-friendly solution for crafting delicious homemade sushi, these bamboo mats are an excellent choice.
Buyer's Guide
For many home cooks, the idea of making sushi rolls is a tantalizing culinary adventure. To embark on this journey successfully, choosing the best sushi rolling mat is important. Not only does it simplify the process but also ensures the quality of your homemade sushi.
Material
The material of your sushi rolling mat is a critical factor. The two most common options are bamboo and silicone.
Bamboo mats offer authenticity and a traditional feel, while silicone mats are non-stick and easy to clean. The latter is also dishwasher-safe. Choose the material that aligns with your preferences and the type of sushi you plan to make.
Size
Sushi mats come in various sizes. Standard dimensions are around 9.5" x 9.5", but you can find smaller or larger options. Ensure the size fits your countertop space and the quantity of sushi you intend to roll.
Workmanship
Pay attention to the craftsmanship of the mat. Mats with cotton string stitching are less likely to splinter or unravel, ensuring durability. Look for mats that are well-constructed to withstand repeated use.
Cleanability
Consider how easy it is to clean the mat. Some bamboo mats may require more attention, while silicone mats are often dishwasher-safe. Opt for a mat that suits your cleaning preferences and routine.
Additional Tools
Some sushi rolling mats come with extra features like included chopsticks, a rice spreader, or even a sushi bazooka. These can be valuable additions for beginners or those seeking convenience.
Price
Sushi rolling mats come in a range of price points. While higher-priced mats may offer premium features or materials, there are budget-friendly options that deliver excellent results. Determine your budget and choose accordingly.
User-Friendliness
If you're new to making sushi, consider mats designed for beginners. These often come with guides, e-books, or instructions to simplify the process.
Making Sushi At Home
Whatever your needs and preferences may be, these top picks cater to a range of tastes and budgets, ensuring your sushi-making adventures are both enjoyable and delicious.
The Delamu Sushi Making Kit stands out as the top choice, offering a complete package with premium bamboo materials and user-friendly tools. For budget-conscious home cooks seeking a no-frills solution, the BZG 2-Pack Bamboo Sushi Rolling Mat simplifies the process without breaking the bank.
Lastly, the Roll Model Sushi Silicone Rolling Mat is the go-to option for those valuing convenience and easy cleanup. It is dishwasher safe and comes with additional tools.