Cooking without moving from the couch sounds like a dream. If you're a sous vide enthusiast, you probably know that many sous vide machines can be controlled remotely through Bluetooth or WiFi.
If you're looking into getting the popular Anova Nano Precision Cooker or are a new owner of one, you'll be glad to know that the Anova Nano is Bluetooth capable and can be controlled remotely with your phone using the convenient Anova app.
In this guide, I'll outline the minimum device and Bluetooth requirements for connecting your Anova Nano to the mobile app and how to troubleshoot Bluetooth connection issues. Additionally, I'll provide all the necessary information about using Wi-Fi on your Anova Nano.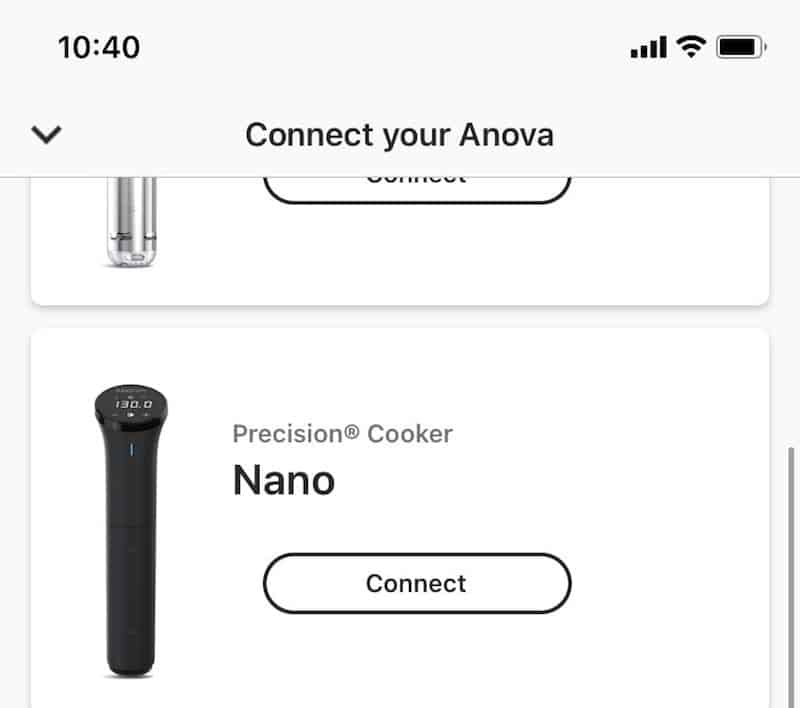 Does Anova Nano Have Bluetooth?
Yes, Anova Nano does feature Bluetooth 4.2 that allows you to connect your sous vide cooker to your phone and control the process through the native Anova Culinary app.
Furthermore, the app includes plenty of recipes, meaning that you don't have to search for them online. You can even share your own recipes through the #anovafoodnerd hashtag.
You can download the app for Android devices here, and for iPhone here. Of course, some device requirements apply. You must have Bluetooth 4.0, a phone on iOS 9.0 or above, or Android 4.3 or above. In turn, the app will pair your Anova Nano to your phone.
How Do I Connect My Anova Nano to Bluetooth?
Connecting your Anova Nano to a mobile device through Bluetooth is quite simple – but apart from turning on Bluetooth on both your Anova Nano and your phone, you will also have to download the Anova Culinary app. Follow the steps below to do so:
Install Anova Culinary app on your phone and register.
Launch the app and tap "Start Anova" at the bottom of your screen.
Enable Bluetooth on your mobile device – depending on your phone model, the instructions may vary. Usually, you can do this through Settings.
Launch the Anova Culinary app and sign in.
Press the Target Temp button on your Anova Nano.
Tap "Connect your Anova" at the bottom of your screen.
Tap "Connect" next to the name of your Anova model.
Type in the four-digit number displayed on your cooker to the app, then tap "Connect."
Anova Nano Not Connecting to Bluetooth
There are several reasons why your Anova Nano may not be connecting to your phone using Bluetooth.
Fortunately, none of these potential issues are insurmountable. In fact, most of them are relatively straightforward to resolve and include basic troubleshooting steps that you would use for fixing connection issues with any other tech gadget.
Here's a list of the most common culprits to look out for:
Device incompatibility. Make sure your phone supports Bluetooth 4.0 or newer and is updated to iOS 9.0 or above or Android 4.3 or above.
The wrong code being typed into the app – double check your code.
Make sure the app is updated to the latest version. This can be done through your device Settings app or in AppStore or Google Play Store.
Try reinstalling your mobile app.
Turn off Bluetooth on your Anova Nano and turn it on again. To do that, press the top middle button on your cooker.
The issue may lie in your mobile device's Bluetooth connection. Unpair all other devices; then try connecting again. Again, this can be done through the Settings app.
If these options don't solve the issue, you will likely have to contact Anova customer support. This can be done on the Anova webpage or through email at: support@anovaculinary.com.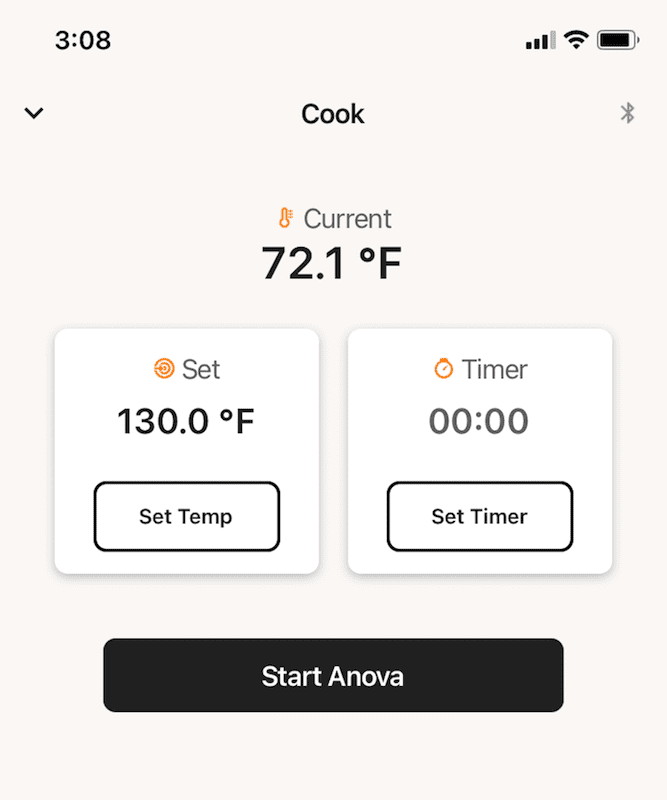 Why Use Bluetooth with the Anova Nano?
Something you might be wondering here is why you would even bother using Bluetooth to connect the Anova Nano with your phone. After all, the device itself comes with a fully functional control panel, so you can control it without the need for any other technology, such as your phone or tablet.
Well, the reason for this is because of that awesome Anova culinary app that I mentioned earlier on. This is indeed one of the best cooking apps out there, particularly when it comes to specific cooking appliances such as the Anova Nano Precision Cooker.
For one, there is the control aspect. Sure, you can control the Nano using the onboard control panel, but what if you aren't home or just don't want to get up from watching your favorite show?
Well, the Anova Nano's Bluetooth cooking app allows for remote control and monitoring. From wherever you are, as long as your device is paired to the Nano, you can set the temperature, the cooking time, and you can turn it on and off too. It's definitely a convenience aspect that is only possible thanks to Bluetooth.
Does Anova Nano Have Wi-Fi?
Unfortunately, not. One of the sacrifices Anova has made is the omission of Wi-Fi. The Anova Nano can sync to your phone app via Bluetooth only, but it won't work over Wi-Fi.
Simply connect your Bluetooth to the app and enjoy the following benefits:
You get access to countless thousands of recipes from world-famous chefs, food critics, and celebrities.
There is a guided cooking feature that will provide you with cooking tips for the specific dish you are preparing.
There are some useful video tutorials to watch.
The app provides you with cooking notifications from your Anova Nano.
You can use the app to share recipes with your friends and family. You can also save your favorite recipes for the future.
You can use the app to manually control your Anova Nano.
In Summary
Now that you know that your Anova Nano is Bluetooth compatible and how to pair it with your phone, cooking should become even more convenient and enjoyable.
Get full control over the food preparation process and access hundreds of recipes created specifically for Anova Nano Precision Cookers.
Do note that you have to re-connect your oven every time you switch it on. To avoid connectivity issues in the future, make sure to update your Anova Culinary app regularly and be aware of the number of devices paired to your phone.
Looking for other articles about the Anova Nano? Check out my posts here: