What Size Plate for Grinding Sausage Do I Need?
Whether you're new to sausage making or are already a pro, a meat grinder is a fantastic addition to any kitchen. With such a device, you'll be able to make your own fresh sausages at any time. The grinder usually comes with plates, but many sausage lovers prefer to purchase these separately. The plate they choose will be suitable for different types of sausage and provide different textures.
Some sausage lovers prefer to grind all first batches through the largest plate. Others start with the coarse plate and move on to the finer grade plate.
This brings us to the question – what size plate for grinding sausage do you need?
Most sausage experts will tell you that the choice will vary from person to person. Ultimately, one's taste and preference determine the plate size.
If you've been having trouble finding a plate for grinding sausages, you've come to the right place. In this article, I'll explain the available sizes and when you should use them. I'll also explore different plate numbers and the types of grinds they produce.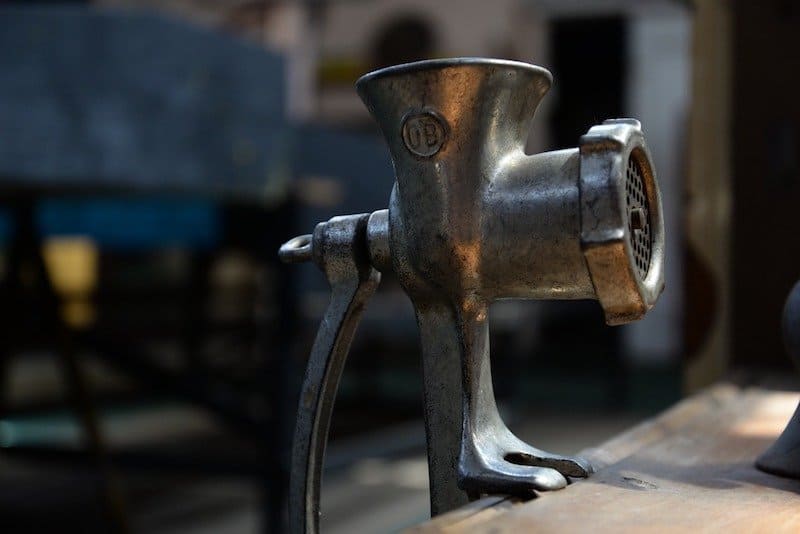 What Is a Meat Grinder Plate?
A meat grinder plate is a circular metal part attached to the worm of the grinder. Meat passes through it after being ground, shaping the sausage. Grinder plates are usually made from carbon steel or stainless steel, making them long-lasting and durable. Although commercial entities such as restaurants and butcher shops often use different meat plates, more home cooks have started investing in them too. This is because meat plates enable them to make sausages of perfect sizes and textures.
Meat plates come in different diameters and have a different number of holes. The smaller the plate, the fewer holes it will have. These slotted holes determine whether you're using meat to make pepperoni or bologna sausage, for example.
If you take a look at your grinder, you might notice the "#" sign. The number next to it displays the grinder size. The most common sizes are #5, #8, #12, #22, and #32. The plate diameter largely depends on these sizes.
Check out the table below to learn more about the grinder numbers, plate diameters it requires, the type of grind it gives, and when it is recommended. Keep in mind that the grinder number and the plate number are virtually the same.
| | | | |
| --- | --- | --- | --- |
| Plate Number | Plate Size | Type of Grind | Recommended For |
| #5 | 2 1/8 inches | Fine Grind | Bologna, Jerky, Hot Dogs, Snack Sticks |
| #8 | 2 1/2 inches | Medium | Breakfast Sausage, Polish, and Italian Sausage |
| #12 | 2 3/4 inches | Coarse | Salami, Summer Sausage, Bratwurst |
| #22 | 3 1/4 inches | Coarse | Chili Meat Sausage, Chorizo |
| #32 | 3 15/16 inches | Coarse | Chili, Chorizo, Linguica, Stew Sausage |
What Meat Grinder Plate Sizes Are There?
Meat grinder plates come in different sizes determined by the diameter of the plate itself. For example, the most common plate sizes are 2 1/8 inches, 2 1/2 inches, 2 3/4 inches, 31/4 inches, 3 15/16 inches, 5 1/8 inches, and 6 inches. Generally speaking, the first five featured on the table above are the standard sizes for home use. The others are used by restaurants or butcher shops that require more production.
Most suggestions will be based on the hole diameter when thinking about what size plate for grinding sausage you need. Namely, the sausage texture and how it'll be used depend on the size of those holes. Here are the most common hole sizes.
3/32 inches
1/8 inches
5/32 inches
3/16 inches
1/4 inches
5/16 inches
3/8 inches
1/2 inches
3/4 inches
3/32 inch and 1/8 inch holes will provide a fine grind. They're suitable for bologna, hot dog, or jerky sausages. 5/32 inch and 3/16 inch holes offer a more medium grind and better choice for breakfast sausages, German and Polish sausages, and hamburger sausage. If you prefer a coarse grind and want to make hamburger sausage, salami, summer sausage, or bratwurst, then 1/4 inches and 5/16 inches are the way forward. For the first grind, chili meat, and chorizo, opt for 3/8 inches holes.
Finally, if you're looking for plates for Linguica or stew sausage, you could also give plates with 1/2 or 3/4 inches a go.
What Meat Grinder Plate Sizes Should I Have for Making Sausage?
Now that you're equipped with all the knowledge about plate sizes and plate hole sizes, how do you choose the perfect plate? Although there are suggestions on which plates are suitable for which types of sausages, this isn't set in stone. That said, you might get a particular plate size and expect to like how it grinds your meat. Even so, the sausage you get may not suit your palate.
Furthermore, the choice of the plate size depends on your grinding style. Do you like to eat sausage with a fine or chewy texture? How about the amount of fat? All these factors matter. For example, some sausage lovers like to start with the coarse grind, no matter the type of sausage, and finish with the fine grind. For them, the choice would fall on 1/2 inch, 3/4 inch, and 1/8 inch hole plates. Such sausages will have a finer texture and less fat.
Others prefer to use 3/4 inch hole plates for the first batch of meat. Then they'll add seasoning or cures and grind the sausage with finer grade plates.
In Summary
If you're relatively new to sausage grinding, it's essential to get the right tools, such as the grinder and plates. Choosing the grinder should be relatively simple, especially when you need something for home use. But what size plate for grinding sausage should you get? Well, this can be tricky to answer.
Firstly, it's vital to learn about what the grinder number represents, plate sizes, and plate hole sizes. On top of that, sausage lovers should understand what they can expect from each plate. Still, many mistakenly believe that their preference regarding the sausage texture and amount of fat doesn't matter.
In fact, this factor will be one of the most important when purchasing the plates for grinding sausages. Think about the types of sausages you love the most and whether you like the fine texture without lumps or the crumbly alternative. It's important to remember that you might need different plate sizes to achieve the perfect consistency. But once you find the perfect combination, your sausages will taste better than store-bought ones.