How to Cook Blood Sausage (Answered!)
Blood sausage is an unfamiliar food for many people in North America and isn't often part of family meals and recipes.
However, more people are discovering how nutritious and delicious blood sausage can be as they explore new foods and ingredients.
For people unfamiliar with this traditional food, there may be many questions about how to cook blood sausage.
It can be cooked by grilling it, cooking it in the oven, or with an air fryer. Read on to learn more.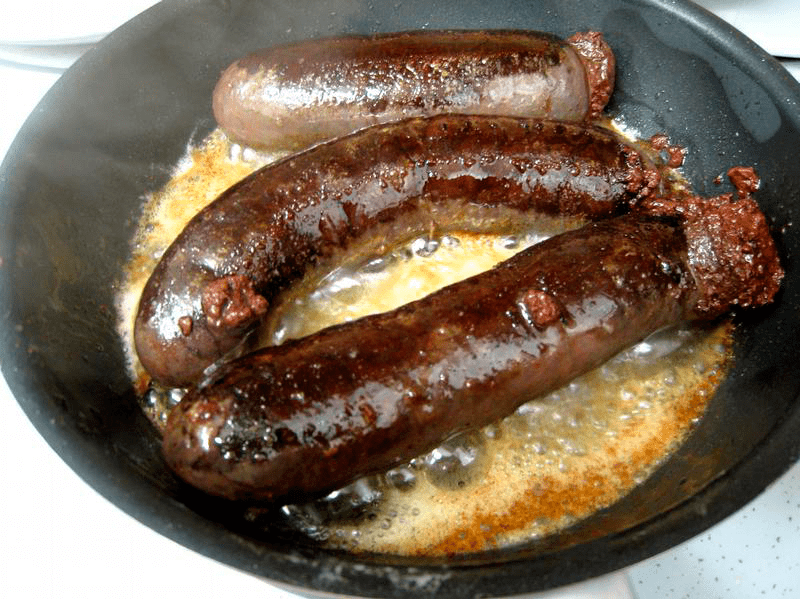 Does Blood Sausage Need to be Cooked?
Blood sausage is cooked during the production process to firm up the sausage and help it hold its shape.
For this reason, blood sausage is safe to eat without being cooked again at home because it has already been cooked before buying it.
However, most people find it more delicious to cook blood sausage at home to re-heat it, achieve a different texture, impart different flavors, and incorporate it into their foods and recipes.
Blood sausage can be cooked like any other sausage, and here are some of the best ways to cook blood sausage.
How to Cook Blood Sausage on the Grill
Grilling blood sausage imparts a smoky, barbecued flavor and is a favorite way to enjoy blood sausage in South America.
Here is how to cook blood sausage on the grill:
Cook blood sausage on the coolest part of the grill, heating it low and slow. If your grill is quite hot, wrap the sausage in foil to protect it from high heat and cook it more slowly.
Do not use a fork to pierce the casing on your blood sausage, to preserve the juices and prevent flare-ups.
Grill blood sausage until the inside is warm and the outside has a grilled, crusty skin.
Allow blood sausage to rest for 3-5 minutes after grilling to preserve the juices.
Grilled blood sausage can be served on a toasted bun with sauerkraut, sliced and served with roasted vegetables, or topped with chimichurri as it is eaten in Patagonia.
How to Fry Blood Sausage
Frying is the most common way to eat blood sausage, and it is enjoyed this way around the world.
To fry blood sausage:
Heat neutral oil (or melt fat or lard) in a frying pan on the stove.
Slice the blood sausage into slices that are about 1 inch thick.
Fry the blood sausage on both sides until it is heated through and crispy on the outside.
Fried blood sausage is often served on bread like a sandwich, served with fried eggs for breakfast, or mashed potatoes and applesauce for dinner.
How to Cook Blood Sausage in the Oven
Baking, roasting, or broiling blood sausage in the oven is a great way to make a simple and delicious meal.
Here is how to cook blood sausage in the oven:
Preheat the oven to 350°F.
Place blood sausage on a baking sheet.
Cook in the center of the oven for 40-60 minutes, turning every 10 minutes for even heating.
When the sausages are hot and firm, they are done.
Serve oven-roasted blood sausage with mashed potatoes or roasted vegetables. The oven is also a great way to make a simple blood sausage sheet pan dinner
How to Cook Blood Sausage in the Air Fryer
Blood sausage is fast and easy to prepare in the air fryer, and this method has less added fat than frying on the stove.
To cook blood sausage in an air fryer, follow these steps:
Slice blood sausages into slices that are about 1 inch thick.
Place slices in the air fryer basket.
Cook on medium/350°F for 10-15 minutes, flipping over halfway through.
Serve air-fried blood sausage the same way you would serve pan-fried blood sausage.
How to Cook Blood Sausage FAQ
How to Cook Polish Blood Sausage
Polish blood sausage, also known as kishka, is a traditional favorite in Poland and areas in the US with a large Polish population.
Polish blood sausage can be prepared using any of the above methods, but to make kishka the traditional way, follow these steps:
Slice two onions and two cored unpeeled apples into chunks.
Sauté the onions and apples together in butter on the stovetop, seasoning with ground cumin, cinnamon, and fennel. Cook 3-4 minutes until fragrant and just tender, then remove from heat.
Line an oven-proof dish with aluminum foil, and cover the bottom of the foil with grated horseradish.
Add half of the apple/onion mixture to the baking dish.
Slice Polish blood sausages into large chunks about 2 inches thick and add them to the baking dish.
Top the blood sausages with the rest of the apple/onion mixture, and cover the dish with aluminum foil.
Bake at 390°F for 20 minutes.
Serve with a potato and/or celeriac puree.
How to Cook Morcilla Blood Sausage (Spanish Blood Sausage)
Spanish blood sausage is called morcilla and is eaten throughout the Spanish-speaking areas of the world.
In Spain, morcilla is usually cut into thick slices, fried until crispy, and then eaten with sliced bread as a snack.
How to Cook Blood Pudding Sausage (British Blood Sausage)
Traditional black pudding or blood pudding is eaten throughout the British Isles.
It's a famous staple of the entire English or full Irish breakfast. To cook black pudding and make a full English breakfast, follow these steps:
Warm a can of baked beans, occasionally stirring while other ingredients are cooking.
Place back bacon in a frying pan and warm over medium heat until the edges begin to crisp.
Slice blood pudding and add it to the same pan when the bacon is nearly done.
Cook blood sausage until crisp on both sides.
In another pan, sear small halved mushrooms until they are browned.
When the mushrooms begin to caramelize, move them aside in the pan.
Add tomato slices to the mushroom pan and sear on both sides.
Remove meats from the meat pan and use the meat drippings to fry bread on both sides.
Remove vegetables from the vegetable pan and use it to fry two eggs.
Place all ingredients but the bread on the same plate, and enjoy.
In Summary
As you can see, blood sausage can be cooked like any sausage, and be incorporated into a wide range of dishes and recipes.
So, experiment and find your own favorite way to cook blood sausage!