How to Eat Blood Sausage (Answered!)
Blood sausage is growing in popularity in the US as a delicious, affordable, high protein food that is traditional in so many cuisines.
However, many people are unfamiliar with it and don't know how to eat blood sausage.
Blood sausage can be eaten in many dishes like Mexican Tacos de Moronga, Cajun Boudin Rouge, and Korean Soondae Guk.
So, let's look further at some of the best ways to eat blood sausage.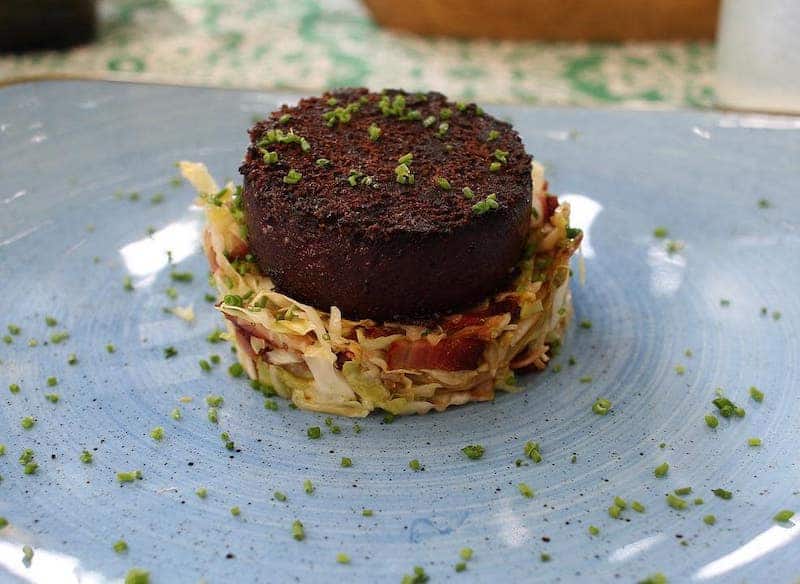 What's the Best Way to Eat Blood Sausage?
Blood sausage can be cooked, served, and eaten just like any other sausage.
The best way to eat blood sausage is to slice it and fry it until it is crispy on the outside.
Fried blood sausage is typically served the same way you would serve other sausages and is usually seen:
Served with potatoes and vegetables in a hash
Served simply with bread or crackers, similar to other charcuterie foods
Served with eggs, bacon, beans, and vegetables as part of a full English or full Irish breakfast
Blood sausage is also an excellent ingredient in soups, stews, and broths, where it adds a hearty flavor
What Do You Serve with Blood Sausage?
What you serve with blood sausage depends on the meal you are preparing.
Here are some of the best items to serve with blood sausage, depending on the meal:
Breakfast
Blood sausage, also called black pudding, is a traditional breakfast staple in the UK.
To make a traditional English or Irish breakfast, fry blood sausage until it is crisp on the outside, and serve it with eggs, bacon, beans, toast, and fried tomatoes or mushrooms.
A traditional full Irish breakfast will include white pudding and black pudding.
Lunch
Blood sausage is part of a traditional lunch in Portugal, Spain, and large parts of South America.
The sausage is fried or grilled and then served on bread as a sandwich.
Dinner
One of the easiest ways to serve blood sausage is to have it for dinner, served with mashed potatoes, roasted vegetables, and a side of applesauce.
This simple preparation is often how blood sausage is enjoyed in Central Europe.
However, served with a side of sauerkraut instead of applesauce, it becomes very similar to how blood sausage is enjoyed in Southern Europe, while Austrians prefer it topped with horseradish.
Appetizer
Slice blood sausage and fry until the slices are crisp, then serve with a toothpick for a fast and delicious appetizer.
Or, place the sausage slices on slices of baguette and top with roasted red pepper sauce, an apple slice, or melted goat cheese for an unforgettable appetizer.
Because blood sausage has a rich, bold flavor, it is best paired with ingredients that are either mild or acidic in taste to complement the sausage without overpowering it.
Best Dishes with Blood Sausage
Because blood sausage is eaten worldwide, there is a vast range of dishes and recipes prepared with blood sausage.
Different cuisines use different seasonings and ingredients, so you can easily incorporate blood sausage into your favorite foods.
Here are some of the best dishes with blood sausage from around the world.
Mexican Tacos de Moronga
Mexican blood sausage is called moronga and is seasoned with onion, butter, and other local herbs and spices.
Blood sausage is sliced and fried with onion, garlic, and jalapeno peppers in Mexico.
Serve moronga in a taco shell, topped with pickled onion and fresh cilantro, or add chili verde sauce.
Cajun Boudin Rouge
Blood boudin is a traditional part of Cajun cuisine, and it's made with rice, onion, green bell pepper, and seasonings.
Boudin rouge is a common ingredient in a wide range of Louisiana dishes, including jambalaya and gumbo, and can also be enjoyed with mustard as a snack or appetizer.
Korean Soondae Guk
Korean blood sausage is known as "soondae" or "sundae" and is part of a traditional soup called Soondae Guk.
Soondae Guk resembles a Japanese ramen dish with sliced soondae, a hearty broth, noodles, and vegetables.
It's often served or topped with kimchi and sometimes topped with gochujang to add a spicy flavor.
Spanish Fabada Asturiana
In the Asturias region of Spain, blood sausage is used to make a hearty stew known as "fabada," the region's signature dish.
To make the stew, a wide range of meats, including blood sausage, chorizo, a ham hock, etc., are cooked slowly in a broth with fava beans.
Seasoned with saffron, Spanish smoked paprika, and fresh herbs, it is a hearty and comforting favorite.
Italian Migliaccio Pistoiese
In Tuscany, the village of Pistoia is famous for a dessert made with blood sausage.
The thin crepe is made with pork blood and fat and sweetened with sugar, spices, and sometimes raisins.
There is also a savory version topped with Parmesan cheese.
Tips for Eating Blood Sausage
Blood sausages sold in the US are cooked during the production process and are ready to eat when you purchase them. Here are some of the best tips for eating blood sausage:
When eaten alone, on bread, or on a bun, it is best to slice blood sausage and fry the slices or grill whole blood sausages until they are lightly charred and smoky. Although the sausage is ready to eat, cooking it imparts more flavor and gives it a crispy, pleasing texture.
When frying or grilling whole blood sausages, do not use a fork to pierce the skin. This allows the juices to run out and makes the sausage dry.
Blood sausage can be cooked and prepared like any other sausage, so feel free to enjoy it with eggs at breakfast, on bread as a snack or sandwich, or add it to soups and stews.
When served by itself as part of a charcuterie board, blood sausage is best paired with apple slices or with mustard.
Pair blood sausage with a strong, rich red wine like a cabernet sauvignon or a brown ale.
In Summary
Blood sausage is eaten and enjoyed worldwide, and Americans are exploring new and interesting ways to incorporate it into their recipes.
Because blood sausage doesn't require any special cooking or preparation methods, it is easy to use in all your favorite dishes, so feel free to get bold with it today.