What Goes with Sausage Balls? (Answered!)
Sausage balls are a delightful snack that can be served for breakfast, lunch, or dinner.
Although you can eat them on their own, sausage balls taste best when paired with creamy dipping sauces and freshly-cooked side dishes.
Here, I'll discuss what goes with sausage balls and give you a few suggestions on mixing things up and adding more richness to your servings.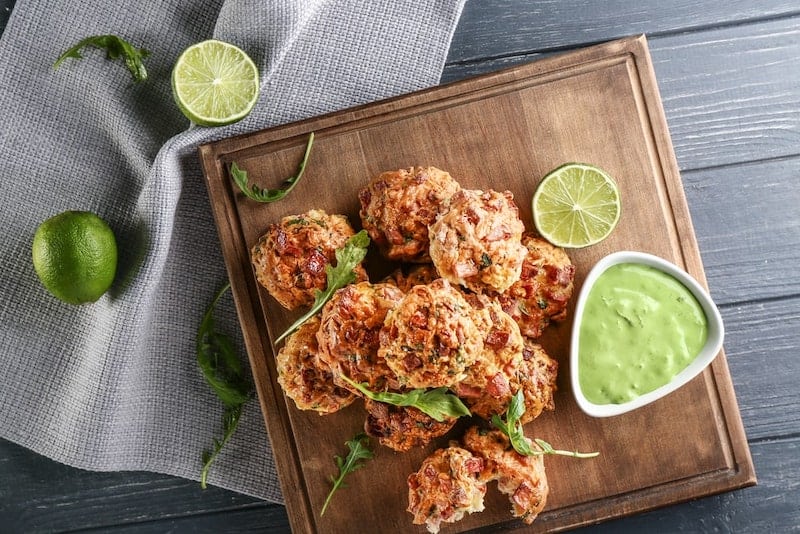 What Goes Well with Sausage Balls?
Sausage balls are a convenient and tasty nibble that are made from ground sausage, breadcrumbs, and different seasonings.
Whether you like your sausage balls spicy or sweet, you can pair them with several dishes and dips.
Not only will you get a meal everyone will enjoy, but you'll also get to pick ingredients with the highest nutritional value. That's why sausage balls are a popular snack choice all year round.
They go well with healthy and delicious ingredients, so a lack of flavor is a non-issue.
If you're heating a batch for a quick breakfast or lunch, you can serve the sausage balls with a bowl of fresh fruit and a glass of juice to fill up your stomach and feel more energized.
When making a hearty dinner, a cheese salad or a pot of egg noodles will ensure everyone's had a fulfilling and delicious meal.
The crispy ground sausage and the freshness of vegetables create a perfect balance of taste and texture.
When making a batch of sausage balls, it's a good idea to stock up on your favorite greens.
When you're not in the mood to whip up an elaborate meal, pop the sausage balls in the oven and chop up some veggies while they're baking.
In less than 10 minutes, you'll have a dish that looks, tastes, and smells incredible.
What Kind of Dipping Sauce Goes with Sausage Balls?
Whether you have a sweet tooth or like indulging in savory goodness, you can dip your sausage balls in several sauces to get the perfect combination.
Creamy tomato sauce offers a lot of variety, as you can add different ingredients to thicken the sauce and bolster its intensity.
Preheat your hot plate and sauté some chopped onions. If you don't have tomato paste, you can add a bit of ketchup for a dash of sweetness.
Stir the mixture and sprinkle in mustard powder and brown sugar. Let the sauce simmer for about 30 minutes, occasionally stirring it to test the thickness.
If you want to make your sausage balls heartier, throw some finely chopped mushrooms into the dipping sauce.
This sweet sauce will elevate any side dish, so you don't have to limit yourself to sausage balls. A plate of crispy hash browns or potato wedges will go well with this tomato sauce.
Ranch dressing is a foolproof way to make sausage balls taste even more delicious if you don't feel like preparing a dip from scratch.
The well-loved dip is ideal for vegetables and gets its signature flavor from fresh herbs, a creamy base, and garlic or onions.
Serving a small bowl next to your sausage ball plate will have everyone at the table asking for seconds.
There are several different types of store-bought ranch dressing, and the base can be made from buttermilk, sour cream, or mayo.
Once you find the dressing that matches your food preferences, you can make your sausage balls as tangy and creamy as you like.
To fully experience the dressing's intense undertones, you can serve the sausage balls with chopped carrots or sweet potatoes.
If you've added a few cheese slices to your sausage ball recipe, dipping them in ranch dressing will boost the cheesy aftertaste.
It's best to make your own sauce to ensure you've achieved the best ratio of sweetness and tanginess.
Honey mustard has a subdued sharpness that pairs well with meat and bread, making it an excellent choice for a flavorful sausage ball dip.
All you need to make the dip is honey, mustard, and mayonnaise. When mixed well, these three ingredients pack a punch.
You can serve the honey mustard in a small dipping bowl next to your food. Another option is drizzling the dip over your sausage balls and allowing them to absorb some of the dip's flavor.
Other sauces you can try include sweet chili sauce, remoulade, hot buffalo sauce, and horseradish dip.
While you can add veggies and spices to your dip to find the best mix, you can also tweak your sausage ball recipe.
Adding parsley or chopped onions to the sausage balls will keep them from drying out and make them chewier when dipped in the sauce of your choice.
What Food Goes with Sausage Balls?
Vegetables give sausage balls an extra kick, but dishes like casseroles, green salads, and baked cauliflower take the meaty taste to the next level.
Cauliflower is packed with healthy nutrients, but its neutral flavor upgrades the sharpness of different cheeses. Grate your favorite cheese over the cauliflower before you pop the tray in the oven to get that delicious creamy cover.
You can make this side dish in less than 20 minutes, so it's an easy way to elevate your sausage roll batch quickly.
A casserole with finely chopped potatoes and cheese will give your sausage ball servings more crispiness.
The sweetness of the potatoes and the sharpness of the cheese will underscore the juiciness of the sausage balls.
The casserole tastes best when it's warm, so serve it straight out of the oven.
A nutritious green salad is the way to go when you don't want to spend too much time in the kitchen.
Chop up some crispy veggies and blend them with your favorite dressing for an explosion of freshness and tanginess. You can even dip the salad in your sausage ball sauce to get a more intense flavor.
Tips for Serving Sausage Balls
Depending on your preference, you can serve sausage balls warm or cold.
Warm sausage balls will make the dip runny and absorb more of its seasonings. If you like your food to leave a rich aftertaste, dipping warm sausage balls in a thick sauce should tick all the right boxes.
Cold sausage balls pair well with other dishes, so a salad bowl or a serving of creamy casserole will make each ingredient stand out.
If you happen to have some leftovers, store the sausage balls in the fridge for three to four days. Reheating them in the oven or microwave will give them that freshly-baked taste.
In Summary
Sausage balls can be served as a quick snack or turned into a full-blown meal.
They're popular all year round, so it's essential to determine what goes well with sausage balls to get the most out of each ingredient.
You can't go wrong when pairing sausage balls with your favorite dipping sauce or side dish, as this snack complements both sweet and spicy dishes.