Beyond Meat vs. Morningstar Farms (Similarities and Differences Explained)
Beyond Meat is famous for being one of the first brands to offer a plant-based meat alternative that tastes and cooks like beef.
It has since expanded to provide a variety of vegan beef, sausage, and pork products.
Morningstar Farms is one of the oldest vegetarian meat alternative brands in the US, founded in 1974, and it offers a wide range of meatless prepared foods and snacks.
But what are the most significant differences and similarities between Beyond Meat vs. Morningstar Farms? Let's take a closer look.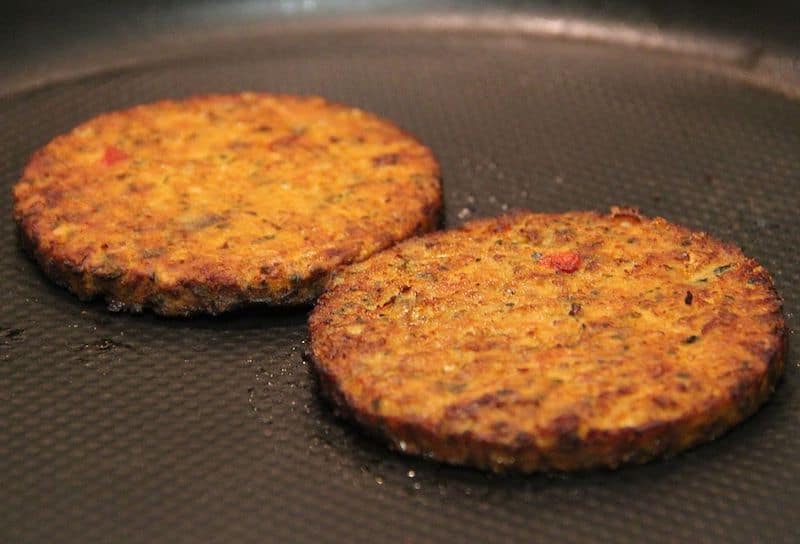 What is Beyond Meat?
Beyond Meat is a plant-based meat product, often compared to the likes of Morningstar Farms, Gardein, and Quorn.
The brand became famous in 2012 for making a vegan burger patty that sizzles, juices, and remains pink inside, just like a beef burger.
Beyond Meats also offers ground beef alternatives, vegan sausage links and patties, and a new line of vegan chicken tenders.
Beyond Meat products are made chiefly of pea and rice proteins to form a complete protein, oils and fats to impart juiciness, beet coloring to create a beef-like pinkness, and flavorings and seasonings.
What is Morningstar?
Morningstar Farms first introduced a line of vegetarian meat alternative products to grocery stores in 1975.
The company is now a subsidiary of Kellogg's.
It offers a vast range of frozen vegetarian and vegan food products that replace beef, chicken, and pork, along with frozen snacks like pizza bites and vegan corn dogs.
Morningstar foods were initially made from soy protein; most of their foods are still based on soy protein concentrates and isolates, while many also include wheat proteins.
In addition, many of their foods initially used egg whites as a binder, although the brand aimed to transition to being fully vegan by 2021.
What are the Similarities Between Beyond Meat and Morningstar?
There are many similarities between Beyond Meat and Morningstar products.
However, the most important things both brands have in common are:
Plant-Based Proteins
Both Morningstar and Beyond Meat are famous for their plant-based, high-protein meat alternative foods.
Similar Product Lines
Beyond Meat and Morningstar carry similar products, including plant-based burgers, sausages, breakfast foods, chicken tenders, ground "beef" alternatives, etc.
A person looking for a wide range of plant-based meat replacements and alternatives has many options with both brands.
Convenient Preparation
Both Morningstar and Beyond Meat strive to make plant-based foods that are easy to store and cook.
Many of their foods are frozen and can simply be reheated and enjoyed or cooked the same way as conventional meat products.
This means that people don't have to work hard to figure out how to cook or enjoy these products.
What are the Differences Between Beyond Meat and Morningstar?
There are some pretty significant differences between Beyond Meat and Morningstar as well.
Here are the biggest differences.
Gluten-Free
Most Beyond Meat products are gluten-free, while Morningstar products are not gluten-free.
For example, the Beyond Chicken Tenders are breaded, so they're not gluten-free, but the rest of their product line does not use wheat or gluten.
Soy-Free
Beyond Meat products are soy-free, and Morningstar products are not soy-free.
Morningstar foods have been based on soy proteins, and all their products contain soy.
Vegan
Most Morningstar products are vegetarian but not vegan because they use egg whites as a binder.
Morningstar products sold under the "Incogmeato" product line are vegan, and the company aims to transition to being fully vegan soon.
Beyond Meat products are vegan, with no animal products at all.
Non-GMO
Beyond Meat is non-GMO. Some individual Morningstar products are non-GMO, but most of them are not.
Prepared Foods
While Beyond Meat only sells alternative raw meat foods, Morningstar farms also sell several vegetarian ready-made frozen foods.
"Veggitizers," like taquito bites, spicy popcorn Chik'n, veggie buffalo wings, and more, can simply be heated in the microwave and served.
Summary Table: Beyond Meat vs. Morningstar
| | | |
| --- | --- | --- |
| | Beyond Meat | Morningstar |
| High Protein Plant-based Meat Alternative Foods | Y | Y |
| Full Range of Meat Alternatives, Including Burgers, Sausages, Ground "Meat," etc. | Y | Y |
| Product Line Also Includes Ready-made Frozen Foods | N | Y |
| Simple and Easy to Store and Prepare | Y | Y |
| Gluten-free | Y | N |
| Soy-free | Y | N |
| Vegan | Y | N |
| Non-GMO | Y | N |
In Summary
Ultimately, because Morningstar is an older company founded in 1975, it wasn't developed for all modern consumers' needs and concerns.
For example, more and more people are avoiding soy or wheat gluten for various reasons or want to choose plant-based foods that do not have GMO ingredients.
There are also far more vegans today, choosing foods with no animal-derived ingredients.
Morningstar foods are an excellent choice for classic vegetarians and people simply looking for a convenient and tasty way to eat less meat and fewer animal products without eliminating them altogether.
In addition, Morningstar has fantastic options for people who want great alternatives on their Meatless Monday.
Beyond Meat is the better choice for people who want genuinely vegan foods without animal products or who are sensitive to soy or gluten.
Beyond Meat offers products that are truly nutritious, plant-based, and non-GMO without sacrificing flavor, texture, or convenience.
And both Beyond Meat and Morningstar offer people eating less meat, or eating no meat at all, great options in the grocery store, allowing them to cook, eat, and enjoy a vast range of foods and recipes.