Gardein vs. Beyond Meat (Similarities and Differences Explained)
Gardein and Beyond Meat are both famous for plant-based foods with the flavor, texture, and protein of meat.
Their products are available in restaurants and food service establishments, as well as in grocery stores and prepared foods.
But what are the similarities and differences between Gardein vs. Beyond Meat?
Let's examine them more closely.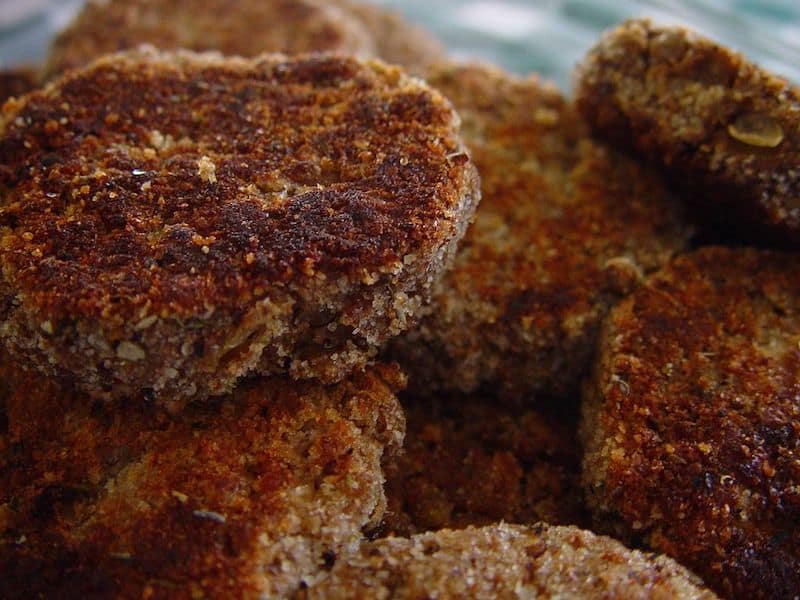 What is Gardein?
Gardein is one of the few vegan meat alternative products initially founded by a chef.
Yves Potvin first developed their meatless protein in 2003, and it's included in a wide range of substitutes for beef, chicken, pork, and even fish.
Gardein foods have won numerous prizes for flavor and have been featured on the Oprah Winfrey Show.
Most Gardein vegan meats contain textured wheat protein, soy, and other vegetable proteins.
In addition, the company has recently developed gluten-free beef and pork replacement foods made from soy or bean proteins.
What is Beyond Meat?
Beyond Meat is a plant-based meat product, falling into the same category as Morningstar Farms, Gardein, Quorn.
It was first developed in 2009, and their product line includes several alternatives to beef and pork products, with the addition of a new vegan chicken tenders product.
They're famous for beef products that visually resemble burgers and for partnerships with well-known brands like McDonald's, Dunkin' Donuts, and Taco Bell.
Beyond Meat products are made primarily of pea proteins and proteins from other legumes and rice.
They also include healthy fats and beet juices for a beef burger's pink color and juicy texture.
What are the Similarities Between Gardein and Beyond Meat?
Gardein and Beyond Meat have many things in common.
Here are the most significant similarities between Gardein and Beyond Meat.
Plant-Based Vegan Proteins
Both Gardein and Beyond Meat make completely vegan foods with no animal-derived products.
Non-GMO Certified
Both Gardein and Beyond Meat use certified non-GMO ingredients in their foods.
So people who prefer certified non-GMO ingredients can find it easily with both brands.
Frozen Foods
Gardein and Beyond Meat both sell conveniently frozen foods.
They're easy to find, easy to use, and easy to store at home.
Meat Replacements
Both Gardein and Beyond Meat are famous for their "meatless meats" that provide the taste and texture of meat to vegan foods.
Brand Partnerships
Both brands have also participated in very visible brand partnerships.
For example, Gardein has been featured on the menus of Veggie Grill.
Hard House, and Burger Fuel, while Beyond Meat has partnered with McDonald's, KFC, Taco Bell, and other Yum Brands stores.
What are the Differences Between Gardein and Beyond Meat?
With all these similarities, here are the most significant differences between Gardein and Beyond Meat.
Prepared Meals and Product Range
Beyond Meat has a fairly limited product range, focusing on alternative beef burgers, crumbles, meatballs, and vegan sausage options.
However, Gardein has an enormous range of products, including vegan chicken and turkey alternatives, beef and pork alternatives, and vegan fish alternatives like fish fillets and crab cakes.
Gardein also has a vast assortment of ready-made foods and soups, including frozen entrees like Chick'n Florentino and vegan Italian wedding soup.
In addition, there are many more Gardein products to enjoy.
Soy and Gluten
Beyond Meat is entirely soy and gluten-free, while many Gardein products contain soy and/or gluten.
However, Gardein does offer some soy and gluten-free foods, so you can check the label to determine which ingredients are in which product.
Controversies and Criticism
While Gardein has been recognized by PETA and other organizations for its innovation, sustainability, and quality, the brand has not been entirely without controversy.
For example, in 2018, Gardein pled guilty to illegally disposing of vegetable oil and was placed on the British Columbia Environmental Offenders Registry.
Gardein is also owned by Conagra Brands, a company that has received wide criticism.
Beyond Meat has not (yet) had any controversies or ethical criticisms.
Summary Table: Gardein vs. Beyond Meat
| | | |
| --- | --- | --- |
| | Gardein | Beyond Meat |
| Plant-based and Completely Vegan | Y | Y |
| High Protein Meat Alternatives | Y | Y |
| Non-GMO Certified | Y | Y |
| Convenient Frozen Foods | Y | Y |
| Wide Range of Brand Partnerships | Y | Y |
| Product Range Includes Ready-to-eat Foods and Meals | Y | N |
| Soy and Gluten-free | A few products | Y |
| Controversies | Y | N |
Gardein and Beyond Meat are excellent choices for people seeking plant-based, high-protein, non-GMO meat alternatives.
Both companies make foods that are delicious and easy to prepare while also being healthy and free of animal-derived ingredients.
Gardein has a much more comprehensive product range, including ready-to-eat frozen entrees, canned soups and chilis, and other vegan foods.
Beyond Meat's product line is more limited and consists of vegan foods that can be cooked and prepared just like meat.
While you can't really blame Gardein for being bought by Pinnacle Foods, which was, in turn, bought by Conagra, some people prefer to avoid doing business with the packaged goods giant.
In Summary
Both Gardein and Beyond Meat are great options for people who want vegetarian and vegan food that tastes great and is simple and easy to prepare.
And both brands continue to pursue partnerships and ventures that make them available in restaurants and fast-food shops around the world, providing a delicious meatless option in your favorite establishments.
Thanks to these food innovators, eating less meat has never been easier.